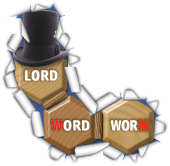 Facebook Game and Paper Puzzles
Facebook Game - Privacy Policy
Updated 7 January 2011
For us here at Lord Word Worm, your privacy is important to us and we have designed our systems specifically to minimise the collection of users' personal information to only the essential. This Privacy Policy defines how we collect and use personally identifying information. Please read this Privacy Policy carefully, and if you have any questions do contact us.
By using the Lord Word Worm Service (comprising the Lord Word Worm game application, associated applications, services and content, payment system, documentation and related information), you consent to the collection and use of your personal information as outlined in this Privacy Policy, and you accept that this Privacy Policy may be amended from time to time. Please check this Privacy Policy regularly to review any changes.
Information Collected
By using the Lord Word Worm Service you identify yourself through your Facebook account and provide the required information about your profile to us. We do not collect any information about our users that is not directly relevant to our services.
If your Facebook personal settings allow it, basic information about yourself comprising of your name, public profile picture and Lord Word Worm achievements will be made public and shared with other Facebook users.
Lord Word Worm may contain links to external websites. We are not responsible for their privacy policies.
In order to optimise our services, we collect and analyse aggregate information about the use of the Lord Word Worm Service, such as IP addresses, browser details, platform type, referring/exit URLs, landing pages, pages viewed, and the date and times of these activities.
By using the Lord Word Worm Service, you consent to our collecting, using and retaining all the above-described information.
Information Usage
We do not sell or rent any collected information to third parties.
You understand and agree that we may access, retain, and disclose any information we may have about you if required to do so by law or in a good faith belief that such access, retention or disclosure is reasonably necessary to avoid liability, to comply with legal processes, such as a search warrant, subpoena, statute, or court order, or to protect our rights and property, or that of our affiliates or the public. Lord Word Worm is not required to question or contest the validity of any search warrant, subpoena or other similar governmental request that Lord Word Worm receives.
Lord Word Worm may maintain copies of your information and content indefinitely, or delete certain information or content in whole or in part if Lord Word Worm determines, in its sole discretion, that such information or content constitutes an "Infringing Posting" or a "Prohibited Posting" as defined in our Terms of Use or for any or no reason.
We also use non-personally identifiable information and certain technical information about your computer and your access of the Lord Word Worm Service in order to operate, maintain and manage the Lord Word Worm Service.
Lord Word Worm may disclose information about you to its partners in order to provide our services, resolve service problems and correct errors, to communicate with you about the Lord Word Worm Service, and to enhance your experience on the Lord Word Worm Service. However, we do not give our partners an independent right to share this information.
Usage by Children
Children under 13 years of age are prohibited from registering for Facebook or providing any personal information about themselves to Facebook. As a service accessible exclusively through Facebook, the Lord Word Worm Service is not available for children under the age of 13.
As per Facebook policy, we also strongly recommend that minors 13 years of age or older ask their parents for permission before using the Lord Word Worm Services.
Transfer of Information
We reserve the right to transfer your personal information in the event of a transfer of ownership of Lord Word Worm, or the acquisition of all the assets of Lord Word Worm related to the business which collected such information, such as acquisition by, or merger with, another company. In such an event, where possible, Lord Word Worm will notify users when information about them is transferred and becomes subject to a different privacy policy.
Cookies
The Lord Word Worm Service may send "cookies" to your computer when you access our service.
Security
Lord Word Worm takes appropriate precautions to protect our users' information. Your account information is located on a secured server behind a firewall. When you enter sensitive information (such as credit card numbers or your password), we encrypt that information using secure socket layer (SSL) technology.
Email and instant messaging are not recognised as secure communications. Therefore, please do not send private information to us by email or instant messaging services.
Additional Notes
Please note that if you send messages or post material containing personal information, that information may be collected and used by others.
You can terminate your Lord Word Worm account at any time. However, Lord Word Worm may (but is not obligated to) keep information about you that is on our systems following your termination.
Questions
If you have further questions about the Lord Word Worm Privacy Policy please contact us at support@lordwordworm.com.