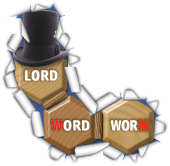 Facebook Game and Paper Puzzles
General Support
General support enquiries should be sent to support@lordwordworm.com.
Facebook Game - Player Support
If you have an enquiry regarding your Lord Word Worm online game account, please contact us via Facebook's "Contact this App" link below the Lord Word Worm game. Enquiries sent via the Facebook link automatically include your Facebook User ID (required to lookup your Lord Word Worm account details).
Note: Lord Word Worm online game does not store players' names, email addresses or other contact details. Therefore, we cannot process a player's specific account enquiry without their Facebook User ID.
Facebook Game - Browser Support
Lord Word Worm is currently available for the following browsers: Internet Explorer (version 7 and newer), Firefox and Safari.
Paper Puzzles
We are currently holding discussions with various newspapers and magazines to arrange inclusion of our Lord Word Worm Paper Puzzles in their puzzles sections. If you would like us to include your favourite newspaper or magazine in our discussions, please complete the form below. Note: we do not require your full address, just the general area of your location.